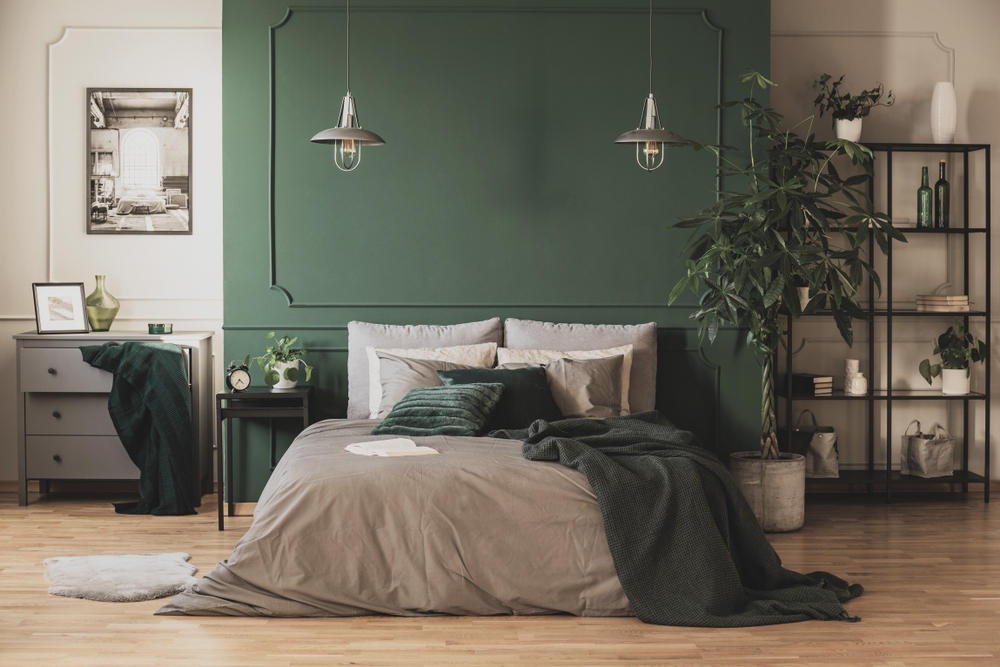 July 2023 Color of The Month – Kale Green

 Kale Green – SW 6460
 Kale Green (SW 6460) is the color of the month for July, and it's no surprise that this vibrant shade is trending among homeowners. This lush green hue brings a sense of vitality and excitement to any space, making it perfect for those who want to infuse their homes with a touch of tropical boho vibes. Whether you choose to incorporate this color in small accents or go all out with bold statements, Kale Green sets the mood and adds a dramatic flair that is sure to catch the eye.
Lush Layers
One way to harness the power of Kale Green is by creating a lushly layered bathroom. Use a dark neutral like Black Magic to anchor the space, and let the brighter shades in the palette come to life against this backdrop. Alabaster can serve as a clean and crisp canvas, allowing the botanical tones of foliage and artwork to shine. By adding just a hint of Kale Green, you can amplify the natural aesthetic, while a touch of Peppery's fiery shade adds a vibrant accent. This combination creates an elevated yet attainable feel, transporting you to a carefree tropical escape every time you step into the room.
Make a Bold Statement
But Kale Green doesn't have to be confined to the interior of your home. It can also make a bold statement on your front porch, inviting guests with its energizing presence. Incorporate this vibrant hue alongside a touch of Peppery, and watch as these bolder colors pop against the bright surrounding shade of Alabaster. The seamless and harmonious flow created by this combination sets the stage for your maximalist story to unfold inside. It not only welcomes your guests with a burst of inspiration from the wild outdoors but also adds character and charm to your home's exterior.
Exude Personality
Incorporating Kale Green into your home's color palette allows you to create a beautiful and lively space that exudes personality. Whether you choose to go big or small with this trend, this vibrant hue is sure to breathe life into your surroundings and make a lasting impression. Embrace the maximalist spirit and let Kale Green transport you to a world of vibrant beauty and tropical enchantment.